Philosophy

Long Term Stable return

High risk for high return doesn't comply with clients' needs.
Clients' confidence acquirement as a prudent manager by long term stable return.
Management
Style

Growth & Value

Growth style stocks lead Korean stock market where the growth style company highly contribute to Korean economy.
And as value investment trend extends, the value style stock weight increase.
Therefore, balanced allocation required in mixed situation with growth and value stock. The VI is trying to discover the undervalued stock in early stage by continuous field survey and company analysis.
Management
System

Sector Manager System based on Bottom-UP approach

Synergy Maximization : Concentration of capability by sharing each member's strong point.
Responsible fund management : Result of research reflect on the management directly.
Research - Driven
Sector allocation by managers (principal / assistant)
Field Survey by visiting company more than 4times a week → Report → investment decision making
Over 2 times seminar a week
Fundamental - Oriented
The enterprise value is the most important factor in investment decision
Portfolio set-up : Valuation and stock selection based on mid to long term forecast of industry trend and estimation of each company's operating result
Set-up balanced portfolio with growth and value style based on sector analysis in charge
Actively react to equity market tends
Investment decision making procedure flow chart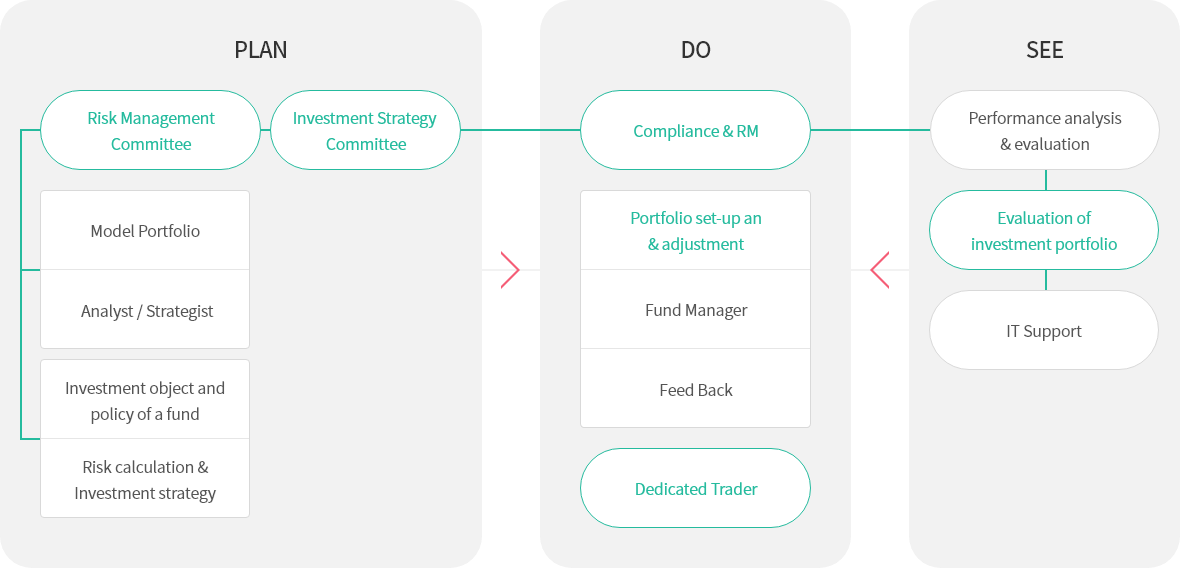 Advantage of team based approach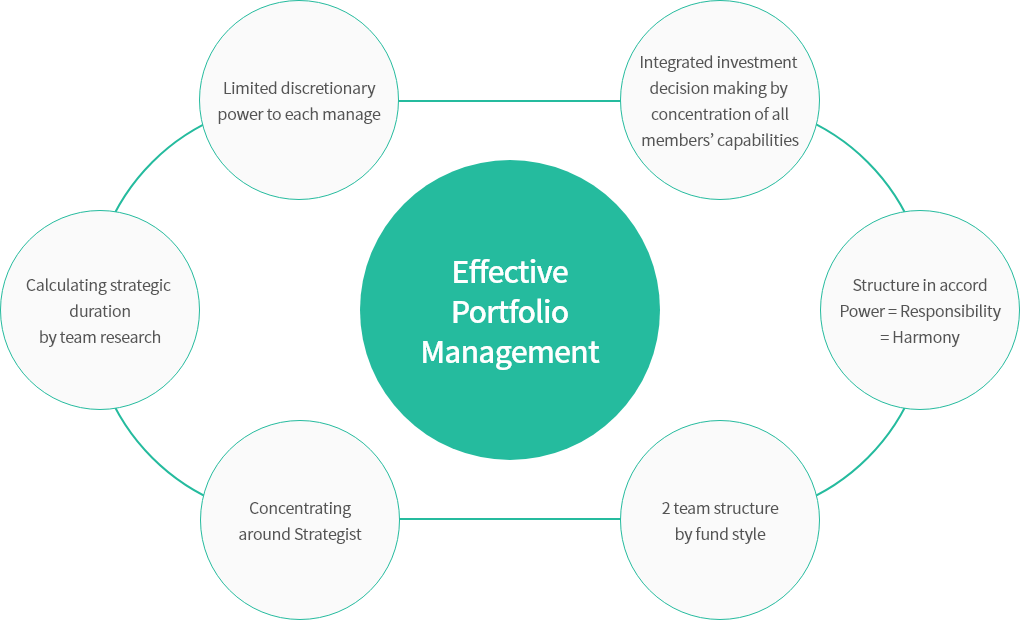 Task procedure flow chart
Portfolio Concept

Macroeconomy outlook
Understanding of domestic investors' needs
Discussion of fund characteristics
Confirmation of fund type & style
Selection

Portfolio Design
Asset Allocation Strategies
Model Portfolio
Fund selection
Portfolio Setup

Correlation analysis of portfolio Back Testing
Setting optimal asset allocation
Portfolio setup
Implementation of effective exchange risk hedge strategy
Strategic management considering market trends
Monitoring
&
Rebalancing

Real time monitoring of portfolio
Regular analysis & performance evaluation
Check portfolio management strategy in case of various event